Golfo Aranci | Northern Sardinia
Villa Golfo Aranci
Right on the beach promenade of the charming fishing village Golfo Aranci and its landmark: majestic palm trees on white sand. A sheltered terrace makes outdoor life perfect. Book now!
Request a free quote - we will send you a house selection with prices.
House description Villa Golfo Aranci
Villa under palm trees in the fishing village near Olbia
Villa Golfo Aranci is a holiday home in the north east of Sardinia right on the beach promenade of the charming fishing village Golfo Aranci and its landmark: majestic palm trees on white sand. A sheltered terrace makes outdoor life perfect. In the village itself, you can buy fish directly from the boats in the morning or stroll through the Sardinian weekly market with fresh regional specialties and traditional craft products. A pretty harbour promenade with palm trees invites you to stroll in the evening.


Villa Golfo Aranci is your perfect Sardinian holiday home if you...
...are looking for a holiday home to explore bays and stunning beaches
...are looking for a mix of village and beach life
...wish to experience the Sardinian way of life up close


Holiday house with flair directly on the sea
Enjoy your holiday with all your senses: Villa Golfo Aranci offers a true Mediterranean lifestyle. The Sardinian sun shines through the interior's large windows and, in combination with dark wood-beamed ceilings and pleasantly cool ceramic floors, creates an incomparable holiday atmosphere. Outside, a secluded terrace with a barbecue and a cosy sitting area perfects an outdoor lifestyle. The villa has no garden but is located directly on the splendid beach promenade.
Detailed house description
House details and amenities
Location and tips for the surrounding area
Places nearby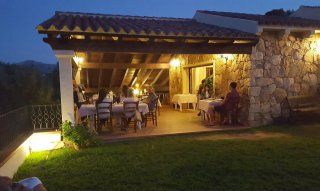 Fish specialities and typical Sardinian cuisine.
Loc. Su Terrabinu | 07026 Olbia
+39 0789 309063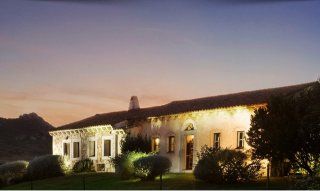 Sardinian cuisine in a rustic atmosphere in a higher price range. Located at the entrance to Cannigione coming from Olbia, on the left hand side.
Loc. Lu Pireddu Strada Arzachena Cannigione | 07020 Cannigione
+39 0789 88440
Ittiturismo La Pischera - San Teodoro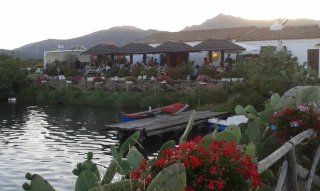 Only a few kilometres from San Teodoro, this restaurant offers a rustic ambience and the freshest fish. They have a fixed-price menu, and you are sure to leave satisfied. Reservations are recommended.
Loc. La Pischera | 08020 San Teodoro
+39 346 1333919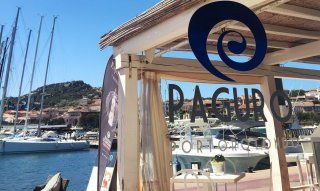 Bar directly at the port in Porto Rotondo. Here you can enjoy delicious drinks as well as good food with a view of the bustling harbour.
Passeggiata del Porto | 07026 Porto Rotondo
+39 0789 34009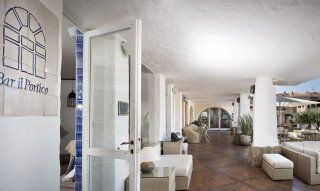 A quiet bar in the Moroccan-Arab style
Piazzetta Porto Cervo | 07021 Porto Cervo
+39 0789 931621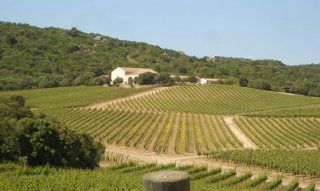 The quality of the grapes is subject to the highest demands of wine production thanks to the constant development of know-how, personnel and technology. Red and white wines of international quality guarantee authenticity in the production, which is not to be found anywhere else. Only pure substances are used for wine production. The vineyards are supplied with water without the use of underground watering systems. The soil is permanently tested by the watering system and allows for optimal growth.
S.S. Arzachena Sant Antonio di gallura km 4 | 07021 Arzachena
+39 078980800
info@capichera.it
Shops for arts and crafts
Centro Commerciale Gallura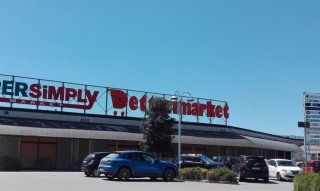 This new shopping centre is close to the famous monument Pozzo Sacro on the way from Olbia to Golfo Aranci. SP 82 Olbia-Golfo Aranci
Loc. Pozzo sacro Via Pittulongu snc | 07026 Olbia
Centro Commerciale Terranova with car wash
This shopping centre is located on the northern outskirts of Olbia and offers extensive shopping. There are some major specialty shops and a self-service car wash. It is well signposted and can be seen from the main road SS 125 Olbia/Palau. Open daily from 9:00-21:00.
Centro Commerciale Terranova | 07026 Olbia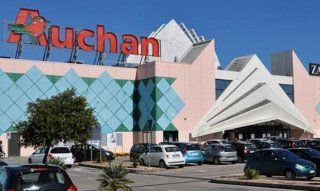 If you arrive by plane, it is worth doing a big shop at this shopping centre. It is very close to the airport on the southern outskirts of the town of Olbia. Apart from the huge supermarket, you can find almost everything here, from a shoe shops to a shop selling furniture and appliances to a fast-food restaurant. After leaving the airport area, take the road on the right to S. Teodoro. From here the route is signposted. Mon-Sat 9:00-21:00, Sun 10:00-21:00.
Via Cesare Pavese, 6 | 07026 Olbia
Horseriding centre Morgenstern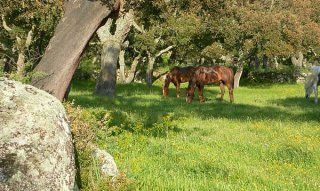 Trail rides and riding lessons on a heavenly horse farm. The owners speak English.
Via Case Sparse | 07020 Padru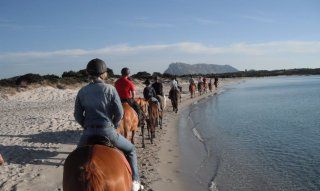 This riding stable is located on the la Cinta beach and has been in existence for more than 40 years. There are organised excursions and lessons; the minimum age is 8 years. Thanks to the great location you can admire the special flora and fauna of the area during the rides.
Largo Colombo 1 | 08020 San Teodoro
+39 0784851007
maneggiolacinta@tiscali.it
Wind-, wave and kite surfing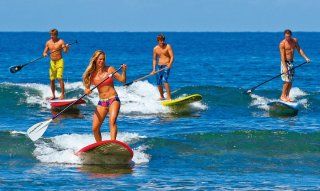 Kitesurfing and Stand-up Paddling lessons from professional instructors.
Le vecchie saline | 07026 Olbia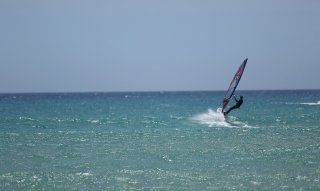 At the Porto Taverna harbour. You can hire windsurfers and kayaks, and take lessons on them.
Porto | Porto Taverna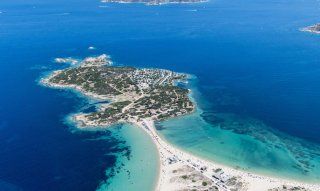 There is surfboard and kite rental on many of the Costa Smeralda's beaches during the summer months. Porto Pollo, to the west of Palau, is an absolute must for any surfer. There is windsurf hire on the Isola dei Gabbiani.
Costa Smeralda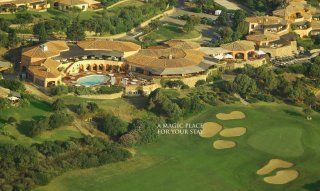 An internationally famous 18-hole golf course. (72), 6107m located near the luxurious Hotel Cala di Volpe on the Capriccoli peninsula in a setting that leaves you breathless.
Loc. Cala di Volpe | 07020 Porto Cervo
+39 0789 958000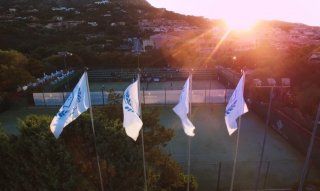 This tennis club is in the centre of Porto Cervo. Five tennis courts tempt you to play a match, and if you want to buy a new tennis outfit in a hurry, then you will definitely find something suitable in the Sport Boutique.
Porto Cervo | 07020 Costa Smeralda
+39 0789 931612
info@lovesportnature.com
Kartodromo Pista dei Campioni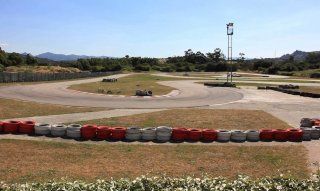 If you love the tingling sensation of speed, then you should go for a few laps round this go-karting racetrack.
Strada Arzachena - Baia Sardinia | 07021 Arzachena
+39 0789 98621
Lega Navale Italiana Golfo Aranci
Sailing courses, boat licenses, cultural events, water, environmental protection of the marine world.
Lungomare | 07020 Golfo Aranci
+39 338 4563637
golfoaranci@leganavale.it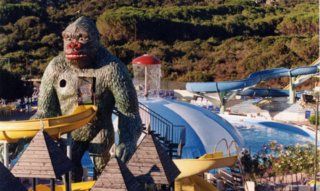 In the centre of the Costa Smeralda and close to Baia Sardinia, there is a water park for those wishing to enjoy the many slides and water games available.
Loc. La Crucitta | 07021 Baja Sardinia
+39 078999511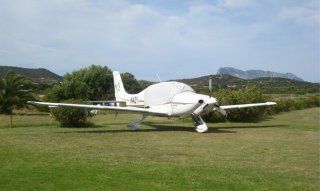 San Teodoro's Aviosuperficie (light aviation), near the lagoon, offers the magical and emotional experience of flight with a micro light aeroplane on one of the striking islands of San Teodoro's seaside. A number of aircraft are at your disposal, and it is possible to engage in many activities and classes as the school is officially certified by the Aeroclub d'Italia.
SS125 km293 | 08020 San Teodoro
+39 347 3701567
Marina dell'Orso - Poltu Quatu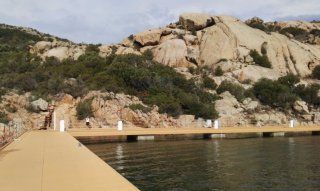 This harbour can be found between Liscia di Vacca and Baia Sardinia and fits in harmoniously with the natural environment of its bay.
Loc. Poltu Quatu | 07021 Arzachena
Motorboat excursions and renting
Motorbike and scooter rental
Places of interest, landmarks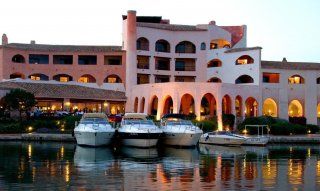 A further example of the Costa Smeralda's architectural style is the famous Cala di Volpe 5-star hotel, which was finished in 1963. Here the architect Jacques Couëlle managed to recreate an oasis from "Thousand and One Nights', which is particularly impressive for the design and special layout of the hotel bedrooms - they all have a panoramic view of the sea, yet they are barely visible from outside. The hotel lies on a bay of the same name, Cala di Volpe, at the southern end of the Pevero Golf Club golf course.
Costa Smeralda | 07020 Porto Cervo
Natural Reserve of Tavolara - Punta Coda Cavallo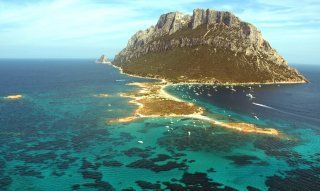 Do not miss an excursion to the islands of Tavolara and Molara. The island of Tavolara has the shape of a triangle, at the corner of which are Punta Timone, Punta del Papa (the cave once served as a hiding place for the Pope), Punta la Mandria and Coda di Terra. The nature reserve can be approached from Porto S. Paolo, depending on your preference, with large excursion boats or small motorboats (with or without a skipper). You can also go as part of an organised fishing boat excursion or as part of a diving excursion.
Tavolara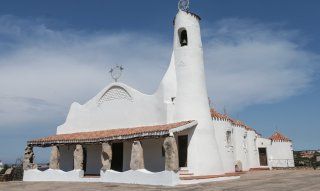 The small church above the Porto Cervo marina was designed in 1969 by the architect Michele Busiri Vici. With its dazzling white plaster and conically shaped bell tower, it is a prime example of the architectural style of the Costa Smeralda. This style is a reinterpretation of Mediterranean architecture specially designed for the Costa Smeralda in perfect harmony with the coastal landscape. The access road is located above the harbour and is signposted.
Piazza Stella Maris, 1 | 07021 Porto Cervo
Tempio di Malchittu and Albucciu Nuraghe
This Bronze Age holy temple site is situated inside an extensive archaeological site. Here one can also see several burial sites, as well as the Albucciu nuraghe. Nuraghi are stone towers that are thousands of years old, built out of boulders weighing many tons, and found exclusively on Sardinia. Drive from Arzachena towards Olbia on the SS 125. After about 600m, drive into the car park on the left hand side at "Nuraghe Albucciu" and then follow the signs on foot.
Malchittu | 07021 Arzachena
Giants Tomb Coddu Vecchiu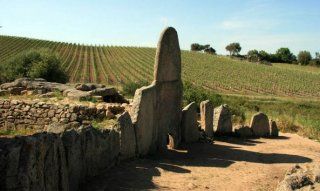 The giant tombs are the largest pre-Nuragic cult sites in Sardinia. Like the great rock tombs, they are monuments of the ancient culture of the Nuragic civilization, the Bonnanaro culture. Coddu Vecchiu is one of the most impressive giant tombs from the Nuraghi period (1800-1600 BC). The actual tomb is almost 11 metres long. The central trench plate, which is over 4 metres high, is the largest one found in Sardinia. From Arzachena take the SS 427 towards Sant'Antonio di Gallura-Calangianus. After about 3 km turn right towards Luogosanto, continue for 1.8 km and then turn left towards Capichera. After a few hundred metres, park the car and walk on the right hand side of the road to the excavation site.
Loc. Capichera | 07021 Arzachena
Capo d'Orso and Roccia dell'Orso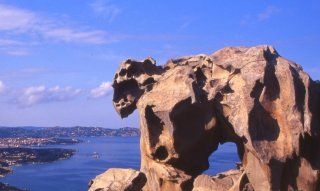 Capo d'Orso offers a fabulous panoramic view of the straits between the coast at Palau and the islands of La Maddalena, Caprera and Santo Stefano. The cape is named after its huge granite rocks shaped like a bear, the Roccia dell' Orso. Every year, thousands of visitors go on a pilgrimage to this rocky monument, formed by the wind and the weather. From Palau, follow the signs to the "Roccia dell'Orso". It is not recommended to climb up to the rock during the midday heat, as the climb is quite tiring. Children should be suitably keen on climbing, and remember to take enough to drink with you.
Capo d'Orso, Loc. Le Saline | Palau