Costa Rei | South-Eastern Sardinia
Villetta 3
Villetta 3 is a beach house with welcoming architecture and a unique location: a path through evergreen macchia, which still belongs to the garden, leads directly to the fine-grained sandy Costa Rei beach. The gently sloping beach with its crystal-clear water is particularly suitable for children.
Request a free quote - we will send you a house selection with prices.
House description Villetta 3
Exclusive location on the spectacular Costa Rei beach
Villetta 3 is captivating with its stylish architecture and unique location behind the dunes. The large, well-kept garden of the villa goes directly into the sandy beach of the Costa. The sea is shallow and crystal clear on the shore. Two offshore rocks invite diving and snorkeling. The sand is white and fine-grained. For everyday necessities, there are shops within walking distance as well as the weekly market with Sardinian specialties, fresh organic vegetables and handicrafts.


Villetta 3 is your perfect holiday home in Sardinia if you...
...are looking for a sunny holiday home for the whole family in a prime location
...have the motto: from the bedroom to the water
...enjoy swimming in the sea and relaxing in the palm garden


From the spacious terrace you can wonder at the sea
The center of the Mediterranean beach life is the terrace from which you can watch the moon dazzle over the water in the evening. The terrace has a dining area around the outdoor fireplace and outdoor seating with loungers and chairs under the palm trees. The property is directly adjacent to the sea. Next to the house is a recently opened four-star hotel that blends architecturally well into the landscape. In midsummer you can hear the music of the evening entertainment.

Detailed house description
House details and amenities
Amenities
Hotspot Costarei (20€/week/8 devices)
A/C in living room + all bedrooms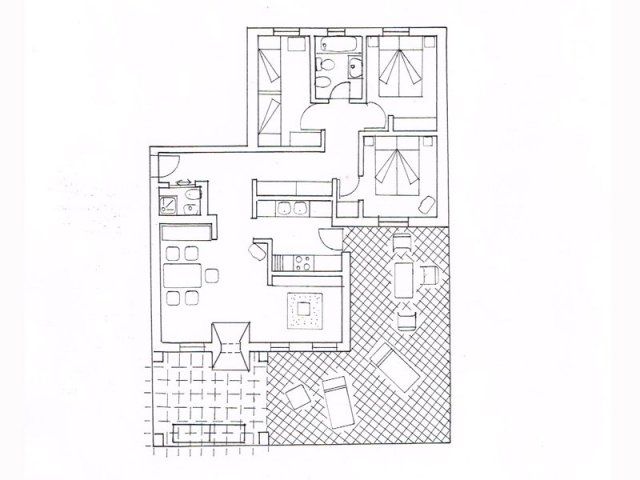 Location and tips for the surrounding area