Costa Rei | South-Eastern Sardinia
Villa Nautilus
A 2,000 m2 park property separates you from the white sandy beach - and a garden gate. Treat yourself to the spacious, exclusive vacation home!
Request a free quote - we will send you a house selection with prices.
House description Villa Nautilus
A luxury villa directly on the idyllic Costa Rei beach
Villa Nautilus is a spacious, exclusive holiday home on the magical Costa Rei bay. The sandy beach, which lies directly in front of the property, is one of the most beautiful in southern Sardinia. All that separates you from the beach is a 2,000-square-metre park—and a garden gate. A restaurant with excellent cuisine is nearby. For everyday necessities, there are numerous restaurants and shops within walking distance of the centre of the Costa Rei, and a bit farther away, a great weekly market with Sardinian specialties, fresh organic vegetables and handicrafts takes place.


Villa Nautilus is your perfect Sardinian holiday home in Sardinia if you...
...are looking for a luxury house in a privileged location.
...like to have the beach right at your doorstep
...want to relax in a large, private park filled with flowers


Exclusive beach villa with a large park
Luxury can not be more relaxed: Villa Nautilus is a top-class holiday home, both architecturally and scenically. Its 350 square metres enchants with a particularly stylish decor of dark woods, white fabrics and bright walls. The modern country-house style is also reflected in the large and comfortable living area on the ground floor and a Portuguese-style marble bathroom. From the spacious terrace with its comfortable lounge furniture, you can enjoy a magnificent view over the coast—or enjoy a cosy meal together in the evening at the beautiful dining table made of Sardinian marble. A walk through the 2,000-square-metre private park with red-flowered hibiscus, palm trees and fragrant macchia bushes only ends on the beach with its crystal-clear water shimmering in all shades of blue.

Detailed house description
House details and amenities
Amenities
TV (only italian programs)
Hotspot Costarei All (15 €/week/device)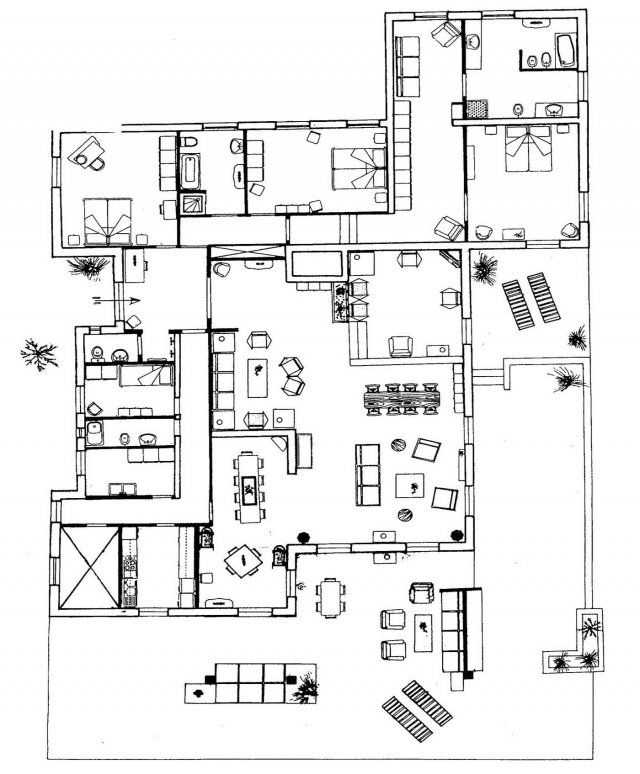 Location and tips for the surrounding area