Sant Elmo | South-Eastern Sardinia
Casa 8
Located in the first row in the resort Sant'Elmo, the garden ends close to the sandy beach, only a short walk through the maquis seperates you from the sea. Experience authentic Sardinia now!
Request a free quote - we will send you a house selection with prices.
Relaxing sea view and large garden
Casa 8 is an award-winning architectural dream of Sardinian granite rock. The house with a large patio is fantastically situated right on the sandy Sant'Elmo beach. Only a short walk through wild macchia separates the distinctive villa from the beach and its phenomenal snorkelling and swimming. By the way: to the left and right of Sant'Elmo, many more spectacular beaches are waiting - and in Costa Rei, only 6 km away, a colourful weekly market for locals and tourists takes place on Thursdays and Sundays from May to the end of September.


Casa 8 is your perfect holiday home in Sardinia if you...
...are looking for a spacious holiday home close to nature
...enjoy detail-loving and country-typical architecture
...want a stylish holiday villa right on the beach


Villa of ancient beauty right on the sea
In Casa 8, the vision of the Sardinian architect Vito Sonzogni has been realized - the Villaggio Rocca Sant'Elmo is a quintessential, spacious beach-side ensemble of holiday villas. In his award-winning houses, Sonzogni has made sophisticated use of natural materials such as Sardinian granite and wood. The light-flooded, sheltered and secluded patio is a Mediterranean outdoor location in complete privacy and harmoniously blends the two detached buildings with separate sleeping and living areas. A brick table with antique tiles, created by the architect, and comfortable loungers invite you to linger. Thanks to the exposed location of the house, you have a grand sweeping view of the turquoise-blue sea from the lovingly planted garden. 

Detailed house description
House details and amenities
Amenities
A/C in living room + all bedrooms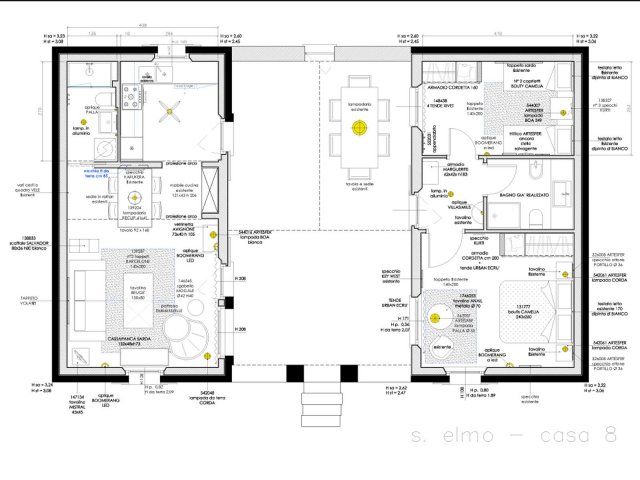 Location and tips for the surrounding area