Sant Elmo | South-Eastern Sardinia
Casa 3
The garden in the first row in Villaggio Rocca Sant'Elmo ends nearly at the sandy beach, and it is only a short walk from the water through the macchia. Experience authentic Sardinia now!
Request a free quote - we will send you a house selection with prices.
Unobstructed sea views right on the beach at Sant'Elmo
Casa 3 is an award-winning architectural dream of Sardinian granite rock. The house with a large patio is fantastically situated right on the sandy Sant'Elmo beach. Only a short walk through wild macchia separates the characterful villa from the beach and its phenomenal snorkelling and swimming. By the way: to the left and right of Sant'Elmo, many more spectacular beaches are waiting - and in Costa Rei, only 6 km away, a colourful weekly market for locals and tourists takes place on Thursdays and Sundays from May to the end of September.


Casa 3 is your perfect holiday home in Sardinia if you...
...are looking for a spacious holiday home close to nature
...enjoy detail-loving and country-typical architecture
...want a stylish holiday villa right on the beach


Architectural dream of granite close to the sea
In Casa 3, the vision of the Sardinian architect Vito Sonzogni has been realized - the Villaggio Rocca Sant'Elmo is a quintessential, spacious beach-side ensemble of holiday villas. In his award-winning houses, Sonzogni has made sophisticated use of natural materials such as Sardinian granite and wood. Inside, the spacious living room with an indoor fireplace creates an intimate atmosphere. The light-flooded, sheltered and secluded patio is a Mediterranean outdoor location in complete privacy and harmoniously blends the two detached buildings with separate sleeping and living areas. A brick table with antique tiles, created by the architect, and comfortable loungers invite you to linger. Thanks to the exposed location of the house, you have a grand sweeping view of the turquoise-blue sea from the lovingly planted garden. 

Detailed house description
House details and amenities
Amenities
A/C in living room + all bedrooms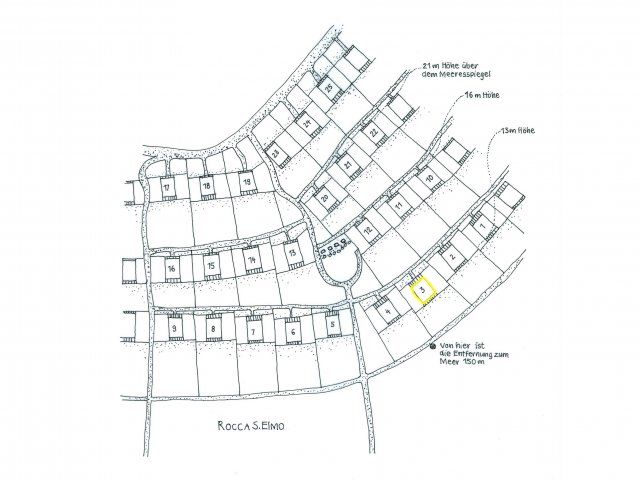 Location and tips for the surrounding area