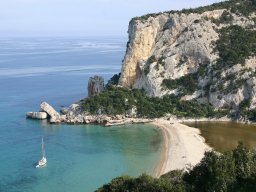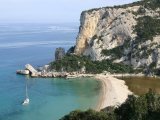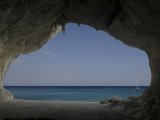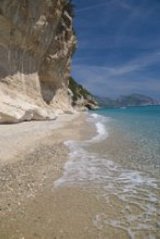 The Gem of the Mediterranean: the Ogliastra

We all love Sardinia, a wonder of nature. Everything that the island offers in the way of beauty can be connected within one stretch of land: turquoise water, breathtaking cliffs, fairytale grottos, gorgeous sandy coves and a beautiful heartland. This authentic jewel of the Mediterranean – the Ogliastra – which stretches from the mouth of the Flumendosa along the beautiful Cedrino river until the Baronia, owes its name to the wild olive trees which have been growing there undisturbed for millennia.
What is there to see? Beginning in the south near the Marina di Gairo along the Coccorroci beach, you will find unique small black stones worn smooth by the sea and its waves. Further north, the red cliffs of Arbatax stretch like spires into the deep blue sky. From here the journey continues further by ship – here you can behold nature's own impressive statue, the cliffs of Perda Longa rising suddenly above the sea. This is where real paradise begins, and it is best admired from the sea where innumerable small coves with golden sand and smooth glossy pebbles arrange themselves before jagged walls of cliff. You won't be able to get enough of the crystal clear water and the white sand beaches which lie together in seductive harmony before you. Take one of the daily ferries from Arbatax, Santa Maria Navarrese or Cala Gonone and visit these enchanting coves with magical names like Cala Luna (the moon cave), Cala Sisine, Cala Goloritze and Cala Mariolu. Or you can make a detour to the grotto of Bue Marino, an impressive subterranean labyrinth of lakes and stalactite caves.
Enough of the ocean: in the chalk mountains of Ogliastra there are wild pigs, big horn sheep (mouflon), golden eagles and screech owls. The fascinating Gorroppu gorge, the deepest canyon within Europe, makes a perfect starting point for hiking. In the mountains near Dorgali, one can see abandoned mountain huts, a few of which have been restored and now offer tourists the opportunity to stay overnight. It is a completely different experience to spend an evening under the starry sky. You can hear the whisper of the ocean and eavesdrop to hear owls calling in the night, all while watching silent ships passing by upon the sea.
We wish you a merry Christmas and a happy new year, and we hope to be able to welcome you back to our beautiful island soon.
It greets you warmly
Ursula Kaup-Leopold and the Sardegna-Team
PDF