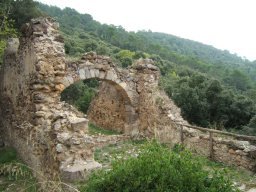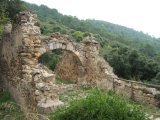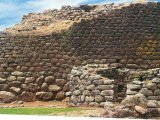 Wonderous ruins from the Nuraghi period hide in Lanaittotal in the rugged, mountaineous region of Supramonte, not far from Oliena and the Hotel Su Gologne. Upon looking over these culture remains, the uniqueness of the Nuraghi culture becomes evident. In a pre-Christian period (about 1800-500 B.C.), the entire island was covered by thousands of watch towers and hundreds of settlements. During that time, more than 3,000 years ago, both housing the magnificent towers were made from granite stone. By working with the materials that make up the island, these craftsmen created a symbol of the symbiosis of Man and Nature. Three architectural elements from the Nuraghi times remain to this day:
Enclosure of natural stone, "muri a secco" carve the landscape in circles and half-circles. Even modern vacation villas such as Sant'' Elmo (photo) remind one of Nuraghi, and owe a debt of gratitude to this primeval culture. And we would like to invite you to our
Nuraghi island
- to a house of stone, from which you can watch rainbows and crescent moons shine in the Sardinian sea.
PDF