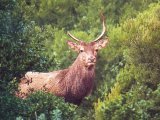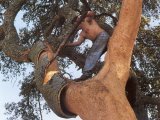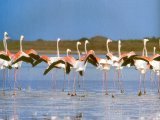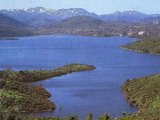 Unspoiled natural areas and abundant species of wildlife make Sardinia a heavenly place to be for anyone who enjoys the great outdoors. The island's out of the way location also creates ideal habitat conditions for its indigenous plants and animals. In Sardinia it is nature, not people, that holds sway over the landscape. Even the increase in tourism in recent years has done nothing to disturb this equilibrium. More enlightened attitudes fostered by education and reinforced by the Sardinians' deeply rooted awareness of the importance of living in harmony with nature have combined to produce an environmental awareness that is unmatched in the Mediterranean region. The habitats of the island's wildlife have been safeguarded against the risks attendant upon increasing tourism through the creation of a mammoth national park and reserve in the Gennargentu mountains. Cork, holm oak, alder and yew forests abound with wild pigs, wildcats, Sardinian deer, falcons, golden eagles, mouflon (wild sheep), kites, black vultures and bearded vultures. Sardinia's high plateaus are also home to herds of wild horses.

The maquis spreads its evocative scent practically everywhere in Sardinia and in spring weaves a blanket of brightly colored blossoms across the entire island. During the summer months, the spicy scent of lavender, thyme, myrtle and rosemary emanating from it is particularly aromatic. Maquis vegetation, which usually starts quite close to Sardinia's idyllic beaches, covers the island's hills and mountains with mastic trees, laurel, Arbutus, Smilax, broom and Cistus, while lushly blooming oleander bushes dot the landscape with brilliant color.

Along the coast can be found juniper, cluster pine and Aleppo pine, all of which are home to numerous species of bird. The Sardinians call the flamingos that strut about the various lagoons sa gente arrubia or "the rose colored folk."

Sardinia also has a fascinating underwater world which can best be observed at one of the island's protected marine areas. And with luck you might also catch a glimpse of frolicking dolphins off the coast of the Maddalena arcipelago in the north or Cape Carbonara in the south. Even the nearly extinct monk's seal can be seen now and again.

To be able to visit many spots on this beautiful island, we recommend a rental car!


PDF