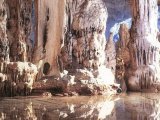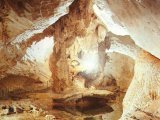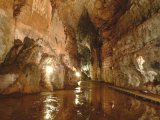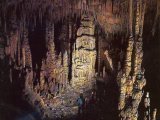 Under Sardinia an extensive labyrinth of intriguing caves extending deep beneath the island's mountains and along its coast awaits discovery. Guided tours of several of the over 300 known grottos and caves are available, and during them visitors outfitted with miner's head lamps and rope explore the caves in a rubber dinghy.
Among the most magnificent caves is
Grotta di Nettuno
(Neptune's grotto) which contains a lake and pillar-like concretions. It can be reached by boat from Alghero or on foot from the top of Capo Caccia promontory via the 656-step Escala del Cabirol ("Deer's staircase"). Visitors who choose the latter route will need to be as fleet-footed as a deer – as the name of this rocky staircase suggests!
The east side of Capo Caccia harbors other intriguing grottos including Grotta Verde, whose name is derived from the layer of green moss covering its stalagmites. The grotto also contains stone age drawings and a small Christian altar.
One of Sardinia's most impressive grottoes is the 10 km-long
Grotta di Ispinigoli
, near Doralgi, whose up to 38 meter stalactites are the longest in the world and a truly breathtaking sight. Guided tours are available.
Another noteworthy grotto is
Grotta del Bue Marino
, which can be reached by boat from Cala Ganone. The grotto is named after the nearly extinct Mediterranean monk seal ("bue marino") which survives today only on the Sardinian coast. About one kilometer of the grotto is open to tourists for whom the unearthly reflections of the stalactites in the grotto's pools of water are an unforgettable sight.
To be flexible in your holidays, we recommend you a
rental car
!
PDF