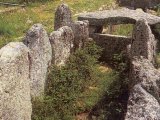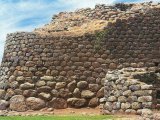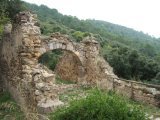 Nuraghi, domus de janas ("house of the fairies" or "house of the witches," actually tombs carved into the rock face), stone age burial sites and so-called giant's graves (tombe dei giganti) all bear mute witness to long-vanished cultures. Sardinia has been inhabited since the stone age, with the latest findings dating back 200,000 years, which is when the first "real" Sardinian culture evolved. The peaceful farmers, fishermen and shepherds of this era were influenced by older cultures to the east.

Sardinia reached its economic and cultural peak during the pre-Christian era (circa 1800-500 BC), when the island was dotted with thousands of defensive towers and hundreds of settlements. Granite houses and megalithic towers were constructed that blended into the rocky landscape, a living expression of the symbiosis between man and nature. Nuraghi – megalithic fortresses made of large boulders and consisting of one or more conical towers – are found throughout Sardinia. Most are neither fenced nor guarded and as a result animals are kept in many of them. They are totally dark inside, and their massive stones date back eons, to the time when Sardinia jutted straight out of the water and present day Italy was seabed.

The aforementioned stone fortresses, wondrous as they are to behold, clearly show that Nuraghic culture was also very warlike. There was apparently great enmity amongst the various tribes despite the fact that they shared the same language and culture. Nuraghic cultured flourished not in isolation but rather through extensive economic and cultural contact with other Mediterranean cultures.

Three architectonic elements survive from the Nuraghic period: natural stone or "dry" dividing walls (muri a secco), circular and semi-circular buildings and natural stone, mainly granite, as a building material.

Routes of the history and culture of Sardinia.

It is possible to download a travel guide to Sardinian cultural heritage.

You want to visit historical sites in Sardinia? We recommend booking a rental car.
Linktable History
PDF