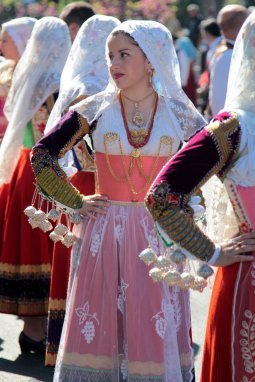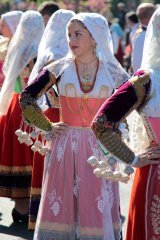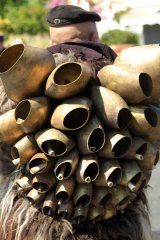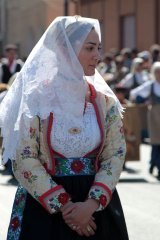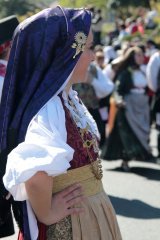 Costumes and festivals
The pictures speak for themselves. We are shown gorgeous Sardinian women in their traditional costumes being one of the most precious attractions of this sunny and maritime island. Mark the rich details, the golden embroideries, the handmade headpieces, the wedding gowns, and evening dresses in kaleidoscopic colors. Observe the young women's jewelry made of gold and silver, crafted most delicately by skilled artisans. Colors and jewels gleaming at the famous festivals in all the towns and villages of the island: San Efisio in Cagliari, the "Cavalcata" in Sassari, the "Redentore" of Nuoro, and the "Sartiglia" of Oristano. In springtime, they come to Sarrabus from all over Sardinia to celebrate "sagra
delle arance" in Muravera. They are Sardinia's ambassadors abroad. You can admire them everywhere. From Gallura to Sulcis – festival for festival, town for town. Even in the little villages like Carmisa, close to the Costa Rei, where, on 10th December the festival of Santa Lucia is celebrated. I was there. The procession, the holy mass, children in their costumes, horses decorated by the farmers, the whole village like one big family. A truly touching event.
Writers that came to Sardinia – like Max Leopold Wagner – were enchanted by the beauty of the dresses as well as of the Sardinian women wearing them. Not only the female costumes, but also the men's are most impressive. On the photograph, we show the bells of the Mamuthones in Mamoiada, a Barbargian village. During the carnival, historic scenes of the occupation are performed by men in ancient costumes, made of "orbace", rough sheep wool, and by "Issokardores", who swing lassos and put their nooses around the spectators'
necks and thus cause great laughter. These groups also appear at the horse shows in Santulussurgio and in Sedilo. Therefore, the "sagre", the island's festivals, and their magnificent costumes are one of the great touristic attractions of Sardinia. You can experience them on the coasts as well as in the inner of the island, where they are even more authentic.
From Pula in the south to Santa Teresa di Gallura in the north, everywhere on this island the pageants bring history from the times of the Phoenicians, the Carthaginians, the Romans and the people of Pisa alive. A history of a part of the world which lies in the heart of the Mediterranean, a place you have to fall in love with.
PDF