Villasimius | South-Eastern Sardinia
Villa Liliana
This tastefully designed semi-detached house nestles in a private pine grove only 80 metres from the spectacular fine-grained sandy beach of Villasimius. - book now and enjoy!
Request a free quote - we will send you a house selection with prices.
House description Villa Liliana
Villa under pine trees in the south of Sardinia
In Villa Liliana, privacy trumps: this tastefully designed semi-detached house is nestled in a private pine grove and is close to the fashionable resort and former fishing village of Villasimius. Just 80 metres and you'll find yourself on a spectacular fine-grained sandy beach. Experience Sardinia completely privatissimo. Around Villasimius you will discover more bays with fine sand and transparent blue water. Splendid Cala Giunco is situated behind white dunes and a lake, where the luxury hotel
Timi Ama
is located. The lively village of Villasimius is perfect for a restaurant visit, a relaxing shopping trip or a visit to a typical weekly market with fresh products.
Villa Liliana is your perfect Sardinian holiday home if you...
...are looking for an exclusive house in a prime location
...want to spend your holidays in complete privacy
...would like to have an idyllic beach right outside the front door
Enchanting house with garden and pine grove
The sea rushes gently: Villa Liliana is an oasis of peace, accompanied by the sounds of nature. The charming semi-detached house preserves the privacy of its guests thanks to a clever arrangement: a well-kept garden with tall pine trees surrounds the house and provides refreshing shade. On the covered terrace with a sofa area and a dining table, you can hear the gentle rushing of the waves. A large brick barbecue and lovingly designed relaxation zones in the greenery perfect the holiday feeling. The living spaces speak the language of the owner: cosy indoor fireplace and beautiful Mediterranean arches.
Detailed house description
House details and amenities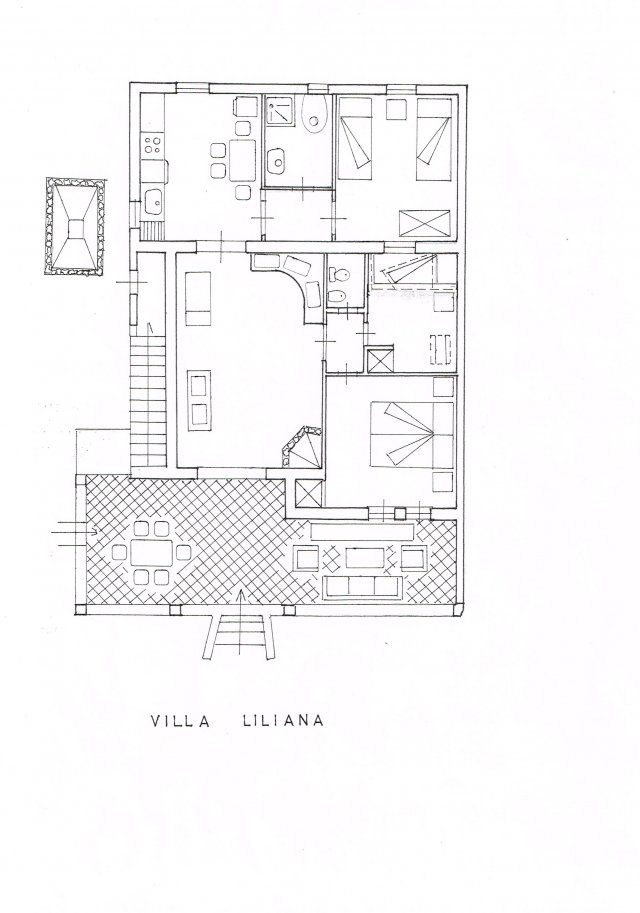 Location and tips for the surrounding area
Places nearby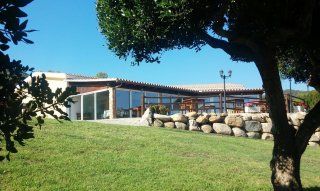 This family run business is situated in a vineyard with an olive grove, peach trees and tomatoes growing in greenhouses. The quality of the produce is guaranteed. With their fresh products and local specialties, the owners prepare delicious Sardinian dishes with a warm and welcoming ambience.
Via San Pietro 48 | 09040 Castiadas
+39 070995027
Sa Marighedda - Olia Speciosa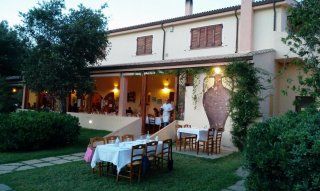 Traditional cuisine in a Sardinian style environment. In summer you can eat outside under the porch while the kids can play in the playground. The owners create a warm and welcoming ambience and the kitchen offers dishes like homemade ravioli, baked vegetables, panadas, culurgionis with tomato, handmade malloreddus, among the desserts pardulas and seadas. Here you can also try the typical roasted suckling pig and grilled lamb.
Loc. Maloccu | 09040 Castiadas
+39 0709949270
Baccusardus - Villasimius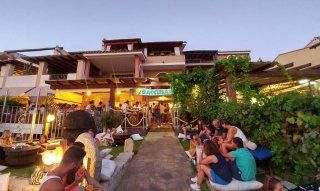 Typical Sardinian wines and food. It is a good meeting place for an aperitif; you can try everything before buying it.
Via del Mare 65 | 09049 Villasimius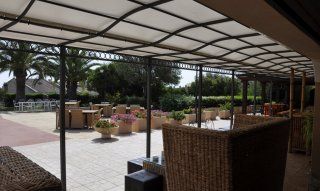 This pizzeria is situated directly in the holiday resort of Sant'Elmo. It also serves salads and steaks, or you can simply visit the bar. It is open from May to September.
Loc. S'Elmo | 09040 Castiadas
Cantina Sociale di Castiadas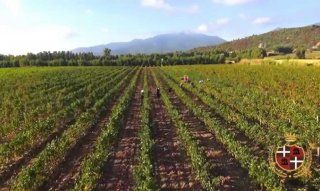 A Cantina Sociale corresponds to a cooperative, and is one of the traditional forms of wine production in Sardinia. A visit is worthwhile to taste the wine varieties produced here, such as the Cannonau (red) or Vermentino (white). The wine from Castiadas is now exported all over Europe. If you like the wine, you can buy it directly at the Cantina Sociale. We recommend the inexpensive and original five-litre bag in a wooden box that costs about 10 euros.
Loc. Olia Speciosa | 09040 Castiadas CA
+39 0709949004
Distillery Sa Bresca Dorada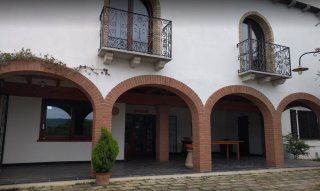 The myrtle liquor and Grappa of Sa Bresca Dorada are gaining popularity beyond Sardinian borders. If you wish to buy directly from the producer, leave S. Elmo/Costa Rei and drive in the direction of S. Priamo/Muravera. A sign bearing the inscription "Bresca Dorada" leads you directly to the point of sale below the Monte Liuru.
Loc. Canne Frau | 09043 Muravera
+39 0709949163
Yummie, self-made ice cream. Gluten-free cones and biscuits.

Via Umberto I 60 | 09049 Villaismius
Weekly street market - Villasimius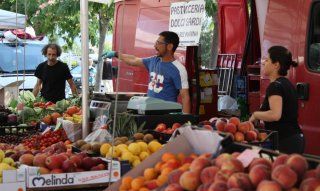 Open Saturdays all year round.
Via Raffaello | 09049 Villasimius
Weekly street market - Costa Rei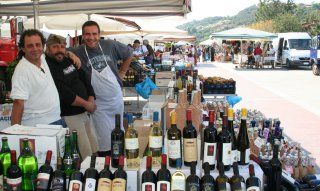 Every Thursday and Saturday from June to September. You will find the market near the blue church in front of the newspaper stand.
Via Ichnusa, Piazza Mercato | 09043 Costa Rei
Panificio Frau - Villasimius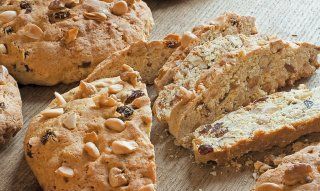 Via Al Mare 31 | 09049 Villasimius
+39 070 792590
Pastry shop Marci - Villasimius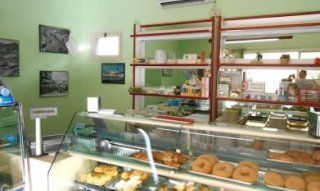 The pastry shop Marci produces traditional, well crafted Sardinian pastries as well as all kinds of cakes. Individual tarts can be ordered for private parties and weddings.
Via Vittorio Emanuele 2 | 09049 Villasimius
+39 070 791287
Caseificio Codonesu - Camisa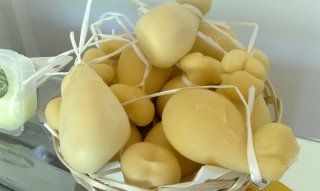 SP 20 | 09040 Camisa (CA)
+39 3294472380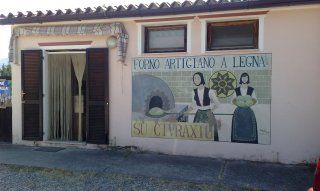 Delicious homemade Sardinian specialties. Mainly baked goods, but also other items on offer. Beautifully decorated.
Loc. Camisa | 09040 Castiadas
+39 070 994 9089
Cooperativa Pescatori Feraxi- Olia Speciosa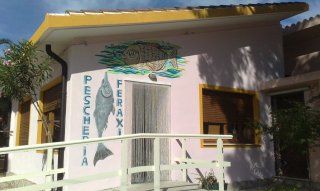 This is one of three direct sales of the fishermen's cooperative of Feraxi. Among other things, you will find fresh mussels, oysters, sea bass and sea bream and from their own breeding operation. In the summer you can also find the shop on the Costa Rei in Piazza Europa.
Via Gerrei | 0940 Olia Speciosa
Beekeeper Bellosi - San Priamo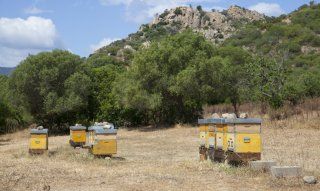 This delightful little farm produces and sells honey and its by-products. In June and August it is possible to watch the honey production. To find the beekeeper, follow the SP20 in the northward. Do not turn off to Olia Speciosa, rather continue a few kilometres to Tuerra at km 30.5.
Loc. San Priamo, San Vito | 09040 San Priamo CA
+39 3401562884
apicoltura.bellosi.tiscali.it
Centro Equestre Iba Sa Cresia - Costa Rei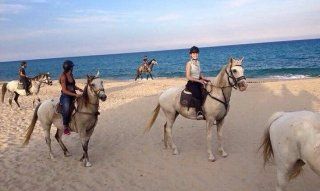 This centre offers lessons and riding excursions for beginner and advanced riders.
Loc Piscina Rei | Costa Rei
+39 3393969363
info@ibasacresia.it
Wind-, wave and kite surfing
Delfino Club - Villasimius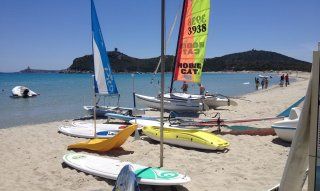 Delfino Club offers the opportunity to practice wakeboarding, waterskiing or windsurfing. Boats can be hired to enjoy a few beautiful hours on the sea.
Cala Giunco | 09049 Villasimius
+39 07 0797063
info@delfinoclub.com
Windsurf rental Costa Rei - Piscina Rei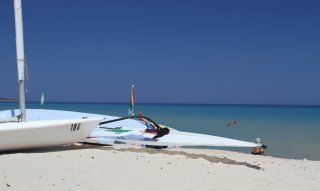 Can be found on the Piscina Rei Beach. Boat excursions are also offered.
Loc. Piscina Rei | 09043 Costa Rei
+39 070 991345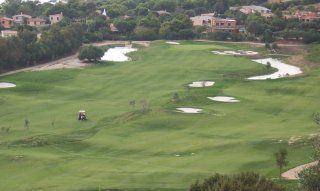 The 18-hole golf course offers a view of the Capo Carbonara. Be sure to reserve a tee time at least one day in advance.
Località Tanca Elmas | 09049 Villasimius (CA)
+39 3471724373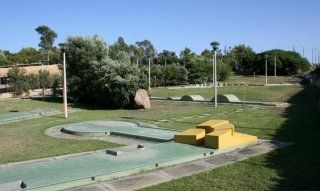 The mini golf area is part of Sant'Elmo's sport facilities and is open from the beginning of May from afternoon to evening. In the immediate vicinity there is also a kiosk and supermarket. It is located on the main road that leads past Villaggio Sant'Elmo, at Sant'Elmo Beach Hotel 4*.
Loc. Sant Elmo | 09040 Castiadas
Sardinia outdoor garden & bike centre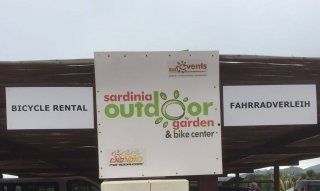 Bicycles are delivered directly to the house or can be picked up at a bike centre in a hotel near you. They also organise bike tours or offer GPS equipment with loaded tours.
Via Veneto, 16 | 09023 Cagliari
+39 070 9177683
info@sardiniabikecenter.com
Cooperativa Monte dei Sette Fratelli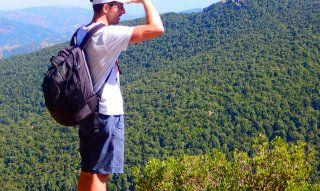 This cooperative organises off-road vehicle excursions, bird watching and guided hikes in the impressive mountain chain between Costa Rei and Cagliari, the Sette Fratelli.
Via Centrale | 09040 Castiadas
+39 3201184883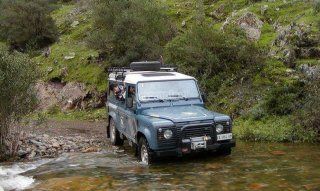 Excursions for singles and groups in the whole of Sardinia and particularly on the south-east coast and in the Sette Fratelli park. The offerings range from 4x4 tours, hiking, trekking and Nordic Walking to boat excursions.
Parco die Sette Fratelli
info@serpeddi4x4.com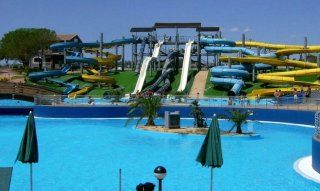 The pools of Diverland are located in a green oasis at the foot of the Sette Fratelli mountain range. In addition to the many slides and pools, there is a place with various boutiques where you can stroll and shop in peace. There are also two restaurants: for lunch, you can choose a quick, self-service option, and then later enjoy dinner at the à la carte restaurant.
Loc. Cruxi Lilliu | Quartucciu
+39 070 8299012
Motorboat excursions and renting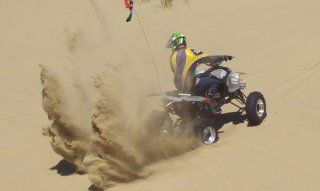 Take the main road Via Ichnusa to the north end of Costa Rei. Iba Sa Cresia lies about 200 metres before the campground Le Dune, on the left hand side. They offer excursions with quads and on horseback.
Loc. Piscina Rei | 09043 Muravera CA
+39 3387678402
Places of interest, landmarks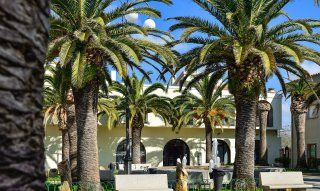 In the old Sardinian fishing village Villasimius in the 1060s, Ernst Jünger wrote his book "Am Saracenenturm". The piazza, with its Mediterranean charm, is the centre of village life, where old and young meet in the evening. In July and August there is a small Dorado with lively nightlife. Numerous restaurants, pizzerias and shops complete the leisure offerings. The old fortress from the 17th century can be found in the port, inside which an international art centre now organises exhibitions. Going to Capo Carbonara, you can enjoy a spectacular view of the sea. Villasimius is known for its diversity of underwater flora and fauna and has been declared a nature reserve.
Between Cagliari and Villasimius, below the 30 kilometre long panoramic road that runs along the south coast, is where the tourist resort of Torre delle Stelle around the Saracen tower Torre de Su Fenugu was built about 30 years ago. On a single hill, south and north of two sandy beaches, are majestic villas where film actors and singers of the rock and pop scene spend their summer holidays. The owners of the restaurants and supermarkets offer homemade Sardinian specialties such as Culurgiones and other varieties of local pasta fresca. Numerous leisure and sports facilities, as well as a diving school provide entertainment. The most beautiful and longest bathing beach in Solanas and the unspoilt coastal section around Geremeas with a beautiful natural sandy beach makes this part of the south coast particularly attractive.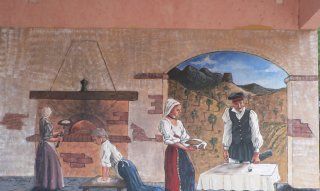 Olia Speciosa is a small village not far from the Costa Rei, towards Muravera. There you can buy Sardinian goods cheaper than on the Costa Rei. Next to the beautiful church and the town hall decorated with Sardinian wall paintings, there are some typical shops and restaurants. Catch-fresh fish can be bought in the local pescheria located behind the bank, on the left in front of the town hall. Handmade ravioli and delicious little pastries are available in the pasticceria at the entrance of the village. Everything radiates rural charm inspiring everyone who is looking for the non-touristic, true Sardinia. Another attraction is the Cantina Sociale. There you can buy wine from the barrel cheaply in a "damigiana", a plastic canister that you bring yourself. You can also purchase award winning wines in the local wine boutique of Cantina. Camisa will seduce you with bread specialties from Su Civraxu and, just around the corner, with local pecorino of the Caseificio.
Archeological Museum - Villasimius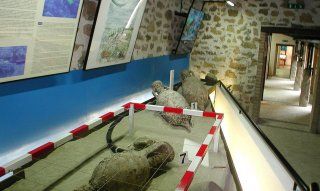 For a few years now, the archaeological museum has been housed in a historical building dating from the 18th century. Among the items on display here are finds from earliest times up to the early Middle Ages. The museum gives particular importance to underwater findings. The highlight of the exhibits are remains of a wreck near the Isola dei Cavoli and the reproduction of an underwater excavation. Opening hours: daily in summer: 10:00-19:00 and 21:00-midnight: Closed Mondays
Via A. Frau, 5 | 09049 Villasimius
+39 070 7930290
museo@villasimiusweb.com
Former penal colony - Castiadas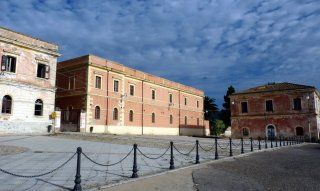 The museum is located in the centre of Castiadas. On August 11, 1875, under the leadership of the prison inspector Eugenio Cicognani, 30 prisoners and seven guards of the San Bartolomeo penal colony from Cagliari landed on the nearby beach of Cala Sinzias. They were to undertake work draining the fields. Eventually this became uninhabited because of malaria and frequent plague epidemics, and degenerated. The prison closed in 1958. The museum documents the time of the penal colony with photos and videos. Open from June to October
Localitá Praidis | 09040 Castiadas
+39 070 99450307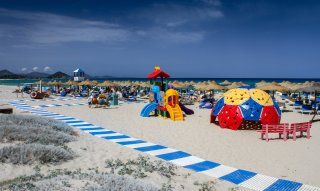 The Lido Tamatete offers a small playground for children right on the beach.
Via Saggittario | Torre delle Stelle
Via Vittorio Emmanuele 17 | 09049 Villasimius
+39 070 791645
Loc Olia Speciosa | Castiadas
+39 070 9949168
Map
Further holiday homes in Sardinia