Torre delle Stelle | South-Eastern Sardinia
Villa delle Stelle
Villa delle Stelle is a peaceful oasis: The 130 m2 villa with panoramic terrace is situated amid the gently rolling hills near Torre delle Stelle, surrounded by fragrant macchia. The garden adjoins an easily accessible rocky beach, and the nearest sandy beach is only 5 minutes away. Book now!
Request a free quote - we will send you a house selection with prices.
House description Villa delle Stelle
Quiet dream villa right on the ocean
Villa delle Stelle is a peaceful oasis: The 130 m2 villa with panoramic terrace is situated amid the gently rolling hills near Torre delle Stelle, surrounded by fragrant macchia. The garden adjoins an easily accessible rocky beach, and the nearest sandy beach is only 5 minutes away. This magnificent refuge with its absolute peace and quiet is only 20 minutes from Cagliari, the vibrant capital city of the island with its exclusive restaurants, cozy eateries and cultural highlights. The nearby restaurant Il Saraceno, as well as the supermarket of Signora Palmini, keep natives and vacationers supplied with food and drink including fine pasta fresca.

Villa delle Stelle is your vacation house on Sardinia, if you...
... are looking for an exclusive villa with lots of space.
... would like to vacation in style far from bustling tourists.
... would like a private swimming spot near your accommodations.


Spacious dream villa amid spellbinding natural beauty
When is luxury at its most resplendent? When there is absolute quiet and nothing but the ocean! Villa delle Stelle is a captivating estate at an exclusive isolated location, surrounded by mature olivastro trees and fragrant green macchia. The 130 m2 living area is distributed over two floors in a staggered design. The stylishly furnished living quarters open on the large-scale terrace where you can experience the authentic Mediterranean lifestyle. Treat your eyes to the panoramic view of the nearby bay or get together around the barbecue for a pleasant cookout. Catch your breath on the comfortable sun loungers in the well-kept, flowering garden – before returning to the picturesque rocky bay for more swimming, snorkeling or scuba-diving.
 


 

Detailed house description
House details and amenities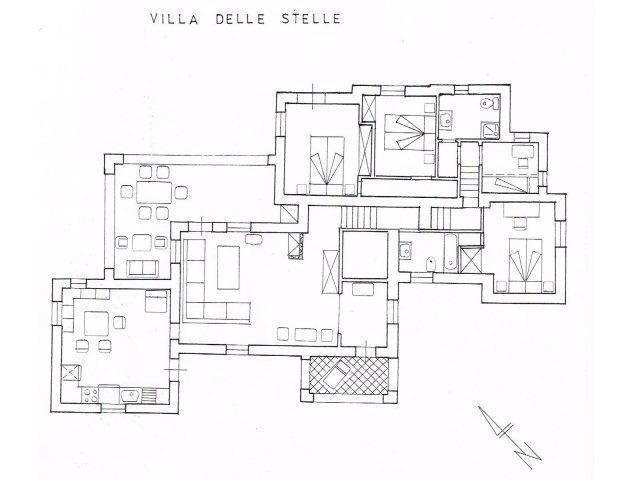 Location and tips for the surrounding area
Places nearby
Manni Diving centre - Torre delle Stelle
Ocean Blue Diving Centre - Torre delle Stelle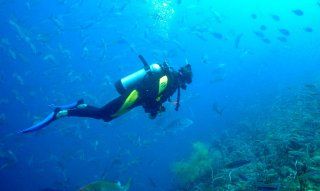 Diving school between Villasimius and Calgliari led by Angie and Marco from Switzerland. Languages: German, Italian, English, French and Spanish.
loc. Kala e Moru | 09045 Quartu Sant'Elena
Bolla Blu Diving - Villasimius
Air Sub Service - Villasimius
Centro Immersioni Sardegna - Strand Costa Rei - Rei Marina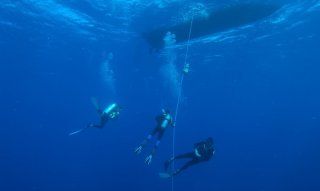 The "Centro Immersioni Sardegna (CIS)" organises guided dives with your own or borrowed equipment, day or night. Underwater videos can also be filmed. Upon request youth and children can also participate. The centre is located in Via delle Agavi in Costa Rei. The diving excursions leave from the beach between the campground Le Dune Cooreyturs and the Hotel Vera Club, Turagri.
Via delle Agavi | 09043 Muravera
+39 070 991399
Wind-, wave and kite surfing
Centro Commerciale Perra - Torre delle Stelle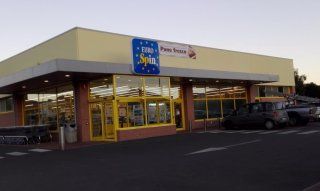 Open all year round
Via Carducci, Via Su Pranu, 3 | 09049 Villasimius
Supermercato Di Meglio - Villasimius
Supermercato Conad - Villasimius
GRIM Supermarket - Flumini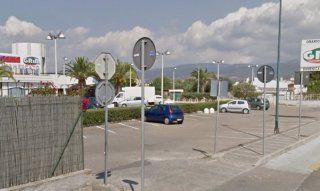 This supermarket has a wide selection of products and is located on the coast road to Cagliari. It is therefore suitable for shopping on arrival, or for guests in Torre delle Stelle.
Via Leonardo da Vinci 157 | Flumini di Quartu Sant'Elena
Il Delfino Centro Commerciale - Sant'Elmo
Supermercato GIEFFE - Quartu S. Elena
Market Monte Nai - Costa Rei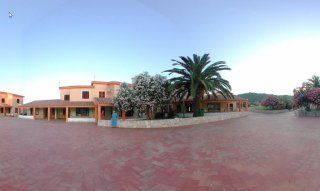 This market sells Sardinian souvenirs in addition to groceries. The GTRE market can be found in the Piazzetta Piscina Rei, in the part of Costa Rei called Piscina Rei. Closed in the low season. For large shopping needs, we suggest driving to Muravera.
Piazzetta Piscina Rei | 09043 Muravera Loc. Costa Rei
+39 070991144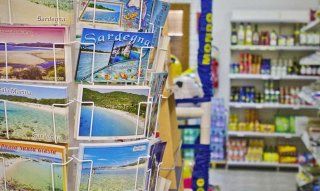 The camping's small supermarket is also accessible to outside guests and is perfect if you need something small. We do not recommend it for bulk purchases because it is slightly more expensive than other supermarkets.
Loc. Costa Rei | 09043 Muravera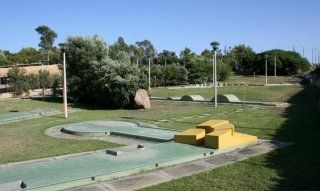 The mini golf area is part of Sant'Elmo's sport facilities and is open from the beginning of May from afternoon to evening. In the immediate vicinity there is also a kiosk and supermarket. It is located on the main road that leads past Villaggio Sant'Elmo, at Sant'Elmo Beach Hotel 4*.
Loc. Sant Elmo | 09040 Castiadas
Il Saraceno - Torre delle Stelle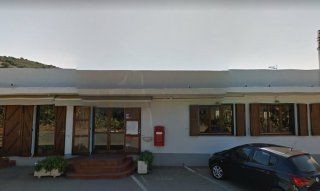 Known as a top restaurant that serves typical Sardinian specialities, this restaurant has a lot of regular guests from Cagliari. To be sure to find a free table, we suggest you to make a reservation. Situated on the SP17 in Solanas, between Cagliari and Villasimius, close to the petrol station.
Località SP 76 | 09048 Villasimius, Solanas
+39 070750630
Il Miraggio-old street after Villasimius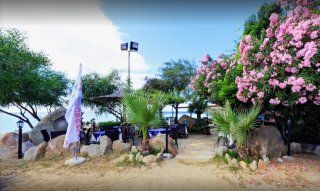 The restaurant is open from March to October. It offers small tables right on the sandy beach, and you can even eat a little something there after midnight. It is located on the provincial road 17 in the direction of Villasimius, shortly after the Villaggio Mandorli resort.
Loc. Campus | 09049 Villasimius
+39 070 798021
La Lanterna - Villasimius
Il Giardino - Villasimius
Araxi'e Mari - San Pietro
Pizzeria Snackeria-Sant'Elmo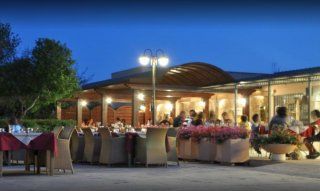 There is a pizzeria directly in front of the S. Elmo holiday resort, beside the supermarket. It also serves salads and steaks, or you can just go there for a drink. It is opened in the summer from May-September.
Loc. Sant Elmo | 09040 Castiadas
Sa Cardiga e Su Pisci - Costa Rei
L'Aragosta da Max - Costa Rei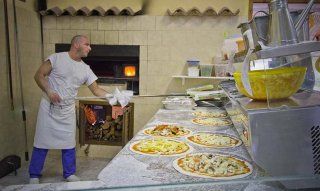 The restaurant-pizzeria on the campsite is big and furnished in a very simple way, just in front of the children's playground. It's perfect if you want to stay close and if you want to, you can walk in right from the beach. The food and pizza are of a good standard.
Loc. Costa Rei | 09043 Muravera
+39 0709919057
Motorboat excursions and renting
Skipper Service Enterprise di Cincotti & C. Snc
Offers boat trips and boat service.

Porto di Villasimius, Molo C | 09049 Villasimius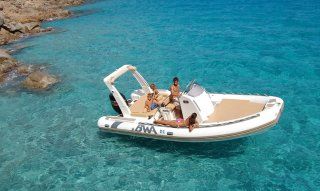 Boat hire in Villasimius.
Porto di Villasimius, Molo I | 09049 Villasimius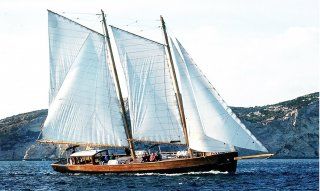 Group boat trips on the 22-meter-long sailboat Matilda II built according to the historical model. Maximum of 60 people. Daniele, the ship's builder and captain, takes you to the Isola die Cavoli, where a short guide to the lighthouse is possible. A Sardinian lunch is prepared on the ship and is included.
Porto di Villasimius | 09049 Villasimius
+39 3400676054
Sporting Yacht Club - Villa Rei
Sardinia Charter - Monte Nai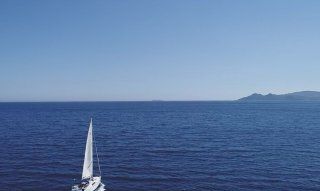 This centre can be easily found taking a stroll along the beach. It is located between the Hotel Costa Rei and the Free Beach Club. It offers water sports, including sailing and motorboat hire, with a skipper. It also offers full- or half-day boat trips for up to twelve people. For rentals of one week, a maximum of six passengers are allowed. Reservations can be made directly at the beach or by telephone. They operate from the beginning of June.
Loc. Costa Rei Monte Nai | 09043 Muravera CA
+39 3497713151
Centro Sport Nautici-Piscina Rei
Innovative and exclusive sailboat rental service dedicated to anyone who wants to experience an unforgettable day or just a few hours at sea. Whether you are an expert navigator, a perfect neophyte or a tourist on vacation, Sailover probably has the solution you are looking for. You can easily book any boat in the fleet at any time of the year along the coasts of Southern Sardinia. Nautical base in Marina Piccola, Marina di Capitana and Marina di Teulada.
Marina Piccola | 09100 Cagliari
+39 3939053722
booking@sailover.net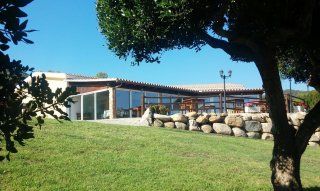 This family run business is situated in a vineyard with an olive grove, peach trees and tomatoes growing in greenhouses. The quality of the produce is guaranteed. With their fresh products and local specialties, the owners prepare delicious Sardinian dishes with a warm and welcoming ambience.
Via San Pietro 48 | 09040 Castiadas
+39 070995027
Sa Marighedda - Olia Speciosa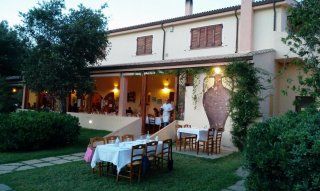 Traditional cuisine in a Sardinian style environment. In summer you can eat outside under the porch while the kids can play in the playground. The owners create a warm and welcoming ambience and the kitchen offers dishes like homemade ravioli, baked vegetables, panadas, culurgionis with tomato, handmade malloreddus, among the desserts pardulas and seadas. Here you can also try the typical roasted suckling pig and grilled lamb.
Loc. Maloccu | 09040 Castiadas
+39 0709949270
Motorbike and scooter rental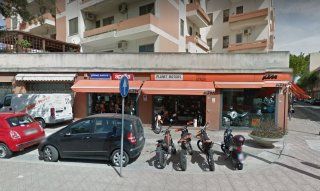 MotoZAI, in cooperation with Planet Motors, offers bicycle, scooter and motorcycle hire as well as motorcycle clothing and accessories. Everyone can find what they're looking for: experts, beginners and those who want to take an exam after receiving instruction. Their fleet offers 125, 250, 650 and 990 respectively with a wide range of models of motorcycles for all needs.
Viale Marconi 113 | 09045 Quartu Sant'Elena
+39 070881179
Cooperativa Monte dei Sette Fratelli
Weekly street market - Villasimius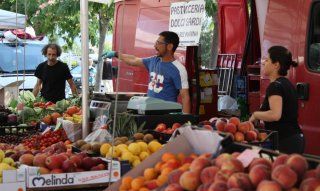 Open Saturdays all year round.
Via Raffaello | 09049 Villasimius
Weekly street market - Costa Rei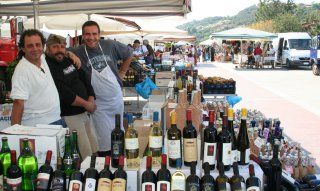 Every Thursday and Saturday from June to September. You will find the market near the blue church in front of the newspaper stand.
Via Ichnusa, Piazza Mercato | 09043 Costa Rei
Baccusardus - Villasimius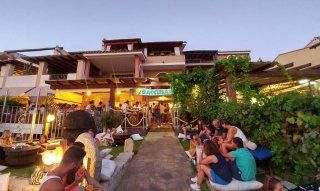 Typical Sardinian wines and food. It is a good meeting place for an aperitif; you can try everything before buying it.
Via del Mare 65 | 09049 Villasimius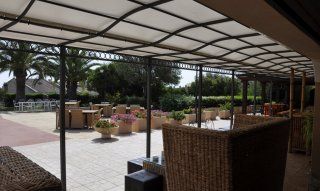 This pizzeria is situated directly in the holiday resort of Sant'Elmo. It also serves salads and steaks, or you can simply visit the bar. It is open from May to September.
Loc. S'Elmo | 09040 Castiadas
Places of interest, landmarks
Old Fortress - Villasimius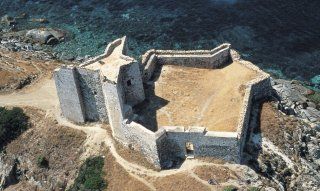 The fortress is situated on a cape close to Capo Carbonara at the eastern end of Cagliari Gulf. It is a complex structure, originally built as a defence post against barbarous incursions. It is a defensive structure that was supposed to protect the people against the raids of the barbarians and whose first part was probably built during the Aragonese period. During the Spanish era the building was then integrated into a structure with four towers. The old defence tower has been drawing attention in the last view years because of a very special exhibition: old documents and photos from the history of piracy are displayed here.
Piazza Gramsci, 1 | 09049 Villasimius
+39 070 7930271
Capo Carbonara - nature protection area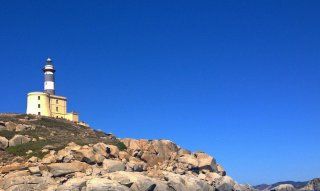 The marine reserve "Area Marina Protetta di Capo Carbonara" has been running round the "Capo Carbonara" at Villasimius since 1998. This section of the sea between Capo Boi in the west and the Isola di Serpentara in the east, is a snorkel and nature paradise. Apart from many species of fish, visitors can also observe a large number of rare waterbirds.
Villasimius
Nuraghe s'Omu e s'Orcu - Castiadas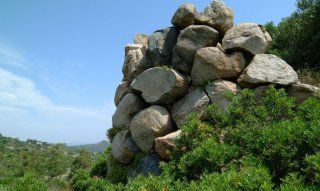 The S'Omu e S'Orcu nuraghe can be found near Santa Giusta, inside the borders of Castiadas district. Due to its complex construction, it is one of the most important nuraghi on the island. Nuraghi are tower-shaped structures made of stone, built more than 3,000 years ago. Up until now, more than 7,000 such towers have been discovered, all over Sardinia. One of the best-known nuraghi is Su Nuraxi, near Barumini.
09040 Castiadas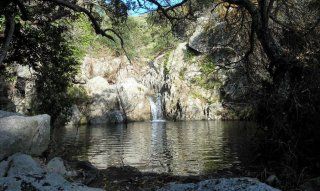 In the nearby mountains of the Sarrabus you will find a change from the beach. Here you will find many hiking trails around the seven peaks of the granite massif, the highest being the Punta Sa Ceraxa, which rises 1016 metres above stone forests and mastic trees. Always keep an adequate water reserve with you in the summer. The entrance to the nature reserve is on the road to Cagliari, near the turnoff to the village of Burcei. For guided hikes, please contact the Cooperative Monte dei Sette Fratelli (see Excursions).
Sette Fratelli
+39 070 9947200
Menhirs and Nuraghi – ancient ruins on the Costa Rei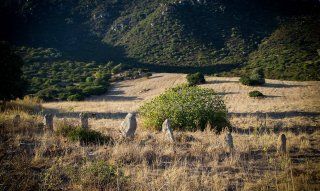 Scalas and Cuile Piras, the Nuragic holy places of worship were established around 3,000 BC close to Piscina Rei, not far behind the lagoon. The 43 menhirs (1-2 metres high and 50-70 cm wide stones set into the ground) are arranged in small groups of roughly 3 to 4 menhirs. It is assumed by the layout of the menhirs that the site was used for astronomical observations relating to the solstice or lunar cycles. The S'Omu e S'Orcu nuraghe can be found near Santa Giusta, inside the borders of Castiadas district. Due to its complex construction, it is one of the most important nuraghe on the island. Nuraghi are tower-shaped structures made of stone, built more than 3,000 years ago. Up until now, more than 7,000 such towers have been discovered all over Sardinia. One of the best-known nuraghe is Su Nuraxi, near Barumini.
Nuraghe Scalas | 09043 Costa Rei
Genn'e Mari und Cann'e Sisa - Torre delle Stelle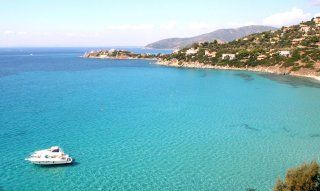 These two beaches belong to the holiday resort Torre delle Stelle. Genn'e Mari offers white sand and a gradually sloping seabed - ideal for swimming. Cann'e Sisa has cream-coloured sand and offers bars and many sports facilities.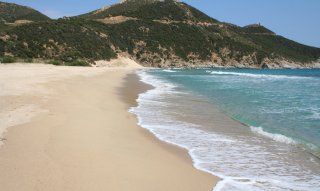 The Solanas's town beach is just about 1 km long and offers white sand and shallow water. As it is practically attached to the town, you can find bars and sport equipment for rent right on the beach.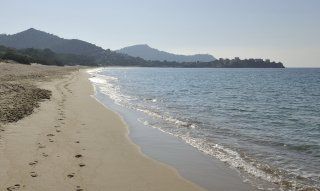 Beautiful white sandy beach, about 3 km long, right in front of Geremeas. Well equipped. The crystalline water shimmers with beautiful colours over a seabed of pebbles. The end of Geremeas beach is called Kala'e Moru. It is just in front of the settlement with the same name. Parking just behind the beach.
Mari Pintau - direction Cagliari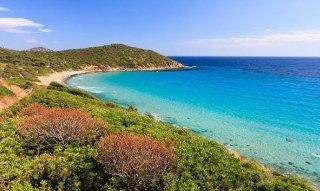 This fantastic beach is located directly on the coast road SP 17 to Cagliari. Mari Pintau gets its name "painted sea" because of the spectacularly intense turquoise and blue colours of the sea water next to the almost white sand and pebble beach. Just park the car on the edge of the street and walk down a few hundred metres to the beach.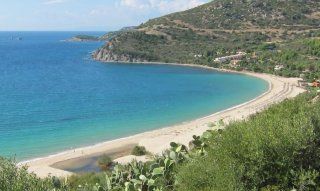 Beautiful, broad, sandy beach with deep water just before the town of Villasimius if you are coming from Cagliari.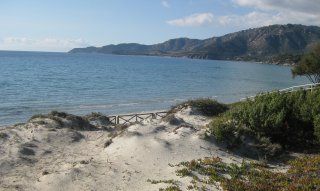 This narrow sand beach has fine sand and is located opposite the yacht harbour. It is a famous surfing spot, and the sun sets in the west making for fantastic sunsets.
Porto Giunco - Villasimius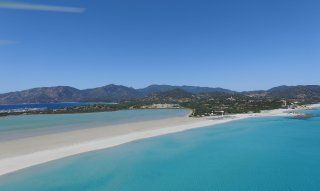 The Cala Giunco beach is one of the most beautiful beaches in Sardinia: crystal-clear water and white Caribbean-like sand. Drive towards the harbour and turn left. When you see the lake, keep slightly to the right.
Punta Molentis - Villasimius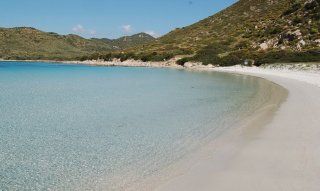 Small, splendid bathing bay with water as clear as glass and a dazzling white sand beach. Take the coastal road from Costa Rei to Villasimius. After about 16 km, in the middle of a left turn, turn right on a gravel road and go under the road. After another 1.3 km you reach the beach.
Cala Pira - road after Villasimius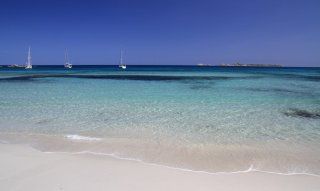 Small bathing bay close to the road that goes from Costa Rei to Villasimius (SP 18) at about km 11, opposite the island of Serpentara. The sand is white and the water shallow.
Cala Sinzias - by Sant'Elmo und Li Conchi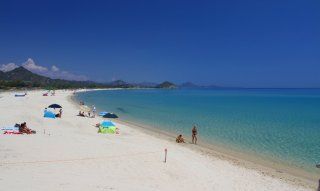 Cala Sinzias is situated between Villasimius and Costa Rei. Framed by high mountains, gnarled trees and macchia which reaches as far as the beach. The heavenly water has been recognized by the Goletta Verde as the cleanest of the Mediterranean Sea. Outside the high season, the bay is an oasis of silence. In the summer there are the beach bars Tamatete and Maklas (see Beach Bars).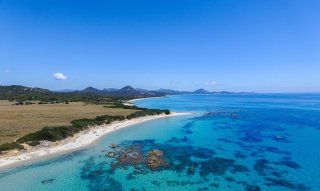 A lovely section of beach in front of a resort with the same name is composed of rock formations and small sandy bays. It is protected by the Monte Turno hill to the south, which gives its name to the next section of beach.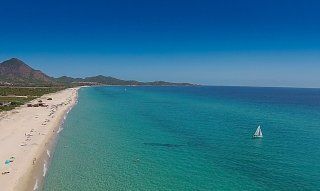 The Costa Rei beach is about 8 km long and is characterized by its fine white to yellow sand and crystalline water. Worth mentioning is the characteristic granite rock Scoglio di Peppino. The Costa Rei beach was voted the fifth most beautiful in the world in the Lonely Planet.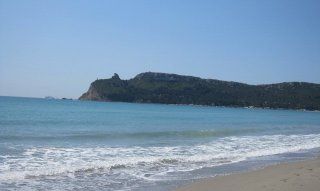 Cagliari's nearly 10 km long city beach is a rendezvous for sunbathers during the day. In the evenings, there is dancing at the endless number of beach bars found everywhere - from fiery salsa sounds to hard rock.
09100 Cagliari
Porto Pirastu - Capo Ferrato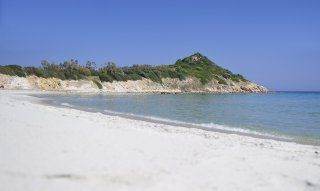 Small bay framed by flat rocks at the northern end of Costa Rei. Grey sand and pebble beach, less suitable for children. A pine forest behind the beach offers shade from the midday sun.
Cantina Sociale di Castiadas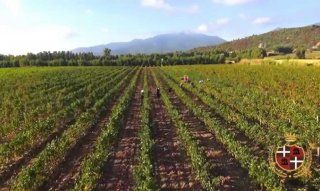 A Cantina Sociale corresponds to a cooperative, and is one of the traditional forms of wine production in Sardinia. A visit is worthwhile to taste the wine varieties produced here, such as the Cannonau (red) or Vermentino (white). The wine from Castiadas is now exported all over Europe. If you like the wine, you can buy it directly at the Cantina Sociale. We recommend the inexpensive and original five-litre bag in a wooden box that costs about 10 euros.
Loc. Olia Speciosa | 09040 Castiadas CA
+39 0709949004
Distillery Sa Bresca Dorada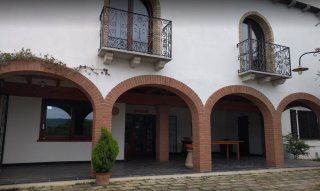 The myrtle liquor and Grappa of Sa Bresca Dorada are gaining popularity beyond Sardinian borders. If you wish to buy directly from the producer, leave S. Elmo/Costa Rei and drive in the direction of S. Priamo/Muravera. A sign bearing the inscription "Bresca Dorada" leads you directly to the point of sale below the Monte Liuru.
Loc. Canne Frau | 09043 Muravera
+39 0709949163
Between Cagliari and Villasimius, below the 30 kilometre long panoramic road that runs along the south coast, is where the tourist resort of Torre delle Stelle around the Saracen tower Torre de Su Fenugu was built about 30 years ago. On a single hill, south and north of two sandy beaches, are majestic villas where film actors and singers of the rock and pop scene spend their summer holidays. The owners of the restaurants and supermarkets offer homemade Sardinian specialties such as Culurgiones and other varieties of local pasta fresca. Numerous leisure and sports facilities, as well as a diving school provide entertainment. The most beautiful and longest bathing beach in Solanas and the unspoilt coastal section around Geremeas with a beautiful natural sandy beach makes this part of the south coast particularly attractive.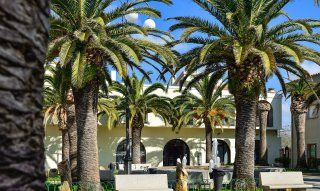 In the old Sardinian fishing village Villasimius in the 1060s, Ernst Jünger wrote his book "Am Saracenenturm". The piazza, with its Mediterranean charm, is the centre of village life, where old and young meet in the evening. In July and August there is a small Dorado with lively nightlife. Numerous restaurants, pizzerias and shops complete the leisure offerings. The old fortress from the 17th century can be found in the port, inside which an international art centre now organises exhibitions. Going to Capo Carbonara, you can enjoy a spectacular view of the sea. Villasimius is known for its diversity of underwater flora and fauna and has been declared a nature reserve.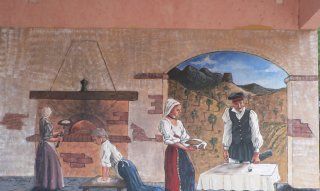 Olia Speciosa is a small village not far from the Costa Rei, towards Muravera. There you can buy Sardinian goods cheaper than on the Costa Rei. Next to the beautiful church and the town hall decorated with Sardinian wall paintings, there are some typical shops and restaurants. Catch-fresh fish can be bought in the local pescheria located behind the bank, on the left in front of the town hall. Handmade ravioli and delicious little pastries are available in the pasticceria at the entrance of the village. Everything radiates rural charm inspiring everyone who is looking for the non-touristic, true Sardinia. Another attraction is the Cantina Sociale. There you can buy wine from the barrel cheaply in a "damigiana", a plastic canister that you bring yourself. You can also purchase award winning wines in the local wine boutique of Cantina. Camisa will seduce you with bread specialties from Su Civraxu and, just around the corner, with local pecorino of the Caseificio.
Cooperativa Pescatori Feraxi- Olia Speciosa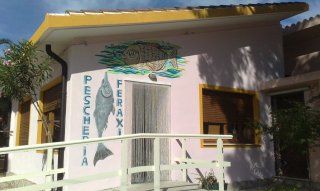 This is one of three direct sales of the fishermen's cooperative of Feraxi. Among other things, you will find fresh mussels, oysters, sea bass and sea bream and from their own breeding operation. In the summer you can also find the shop on the Costa Rei in Piazza Europa.
Via Gerrei | 0940 Olia Speciosa
Archeological Museum - Villasimius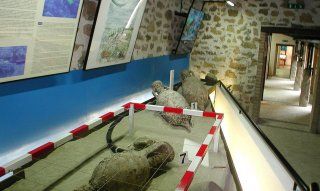 For a few years now, the archaeological museum has been housed in a historical building dating from the 18th century. Among the items on display here are finds from earliest times up to the early Middle Ages. The museum gives particular importance to underwater findings. The highlight of the exhibits are remains of a wreck near the Isola dei Cavoli and the reproduction of an underwater excavation. Opening hours: daily in summer: 10:00-19:00 and 21:00-midnight: Closed Mondays
Via A. Frau, 5 | 09049 Villasimius
+39 070 7930290
museo@villasimiusweb.com
Former penal colony - Castiadas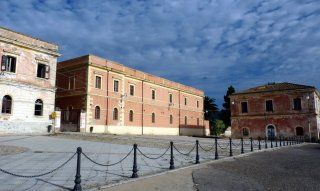 The museum is located in the centre of Castiadas. On August 11, 1875, under the leadership of the prison inspector Eugenio Cicognani, 30 prisoners and seven guards of the San Bartolomeo penal colony from Cagliari landed on the nearby beach of Cala Sinzias. They were to undertake work draining the fields. Eventually this became uninhabited because of malaria and frequent plague epidemics, and degenerated. The prison closed in 1958. The museum documents the time of the penal colony with photos and videos. Open from June to October
Localitá Praidis | 09040 Castiadas
+39 070 99450307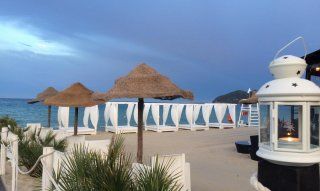 Elegant beach bar in the beautiful bay of Cala Monte Turno. Sometimes there are DJ sets and events.
Spiaggia di Cala Monte Turno | 09040 Castiadas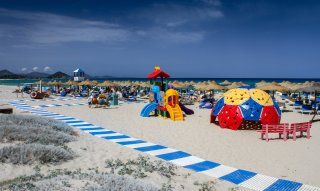 The Lido Tamatete offers a small playground for children right on the beach.
Via Saggittario | Torre delle Stelle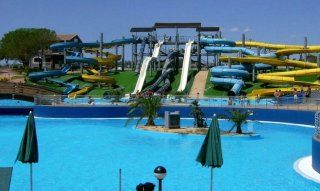 The pools of Diverland are located in a green oasis at the foot of the Sette Fratelli mountain range. In addition to the many slides and pools, there is a place with various boutiques where you can stroll and shop in peace. There are also two restaurants: for lunch, you can choose a quick, self-service option, and then later enjoy dinner at the à la carte restaurant.
Loc. Cruxi Lilliu | Quartucciu
+39 070 8299012
Le Vele-Carrefour - Cagliari
Yummie, self-made ice cream. Gluten-free cones and biscuits.

Via Umberto I 60 | 09049 Villaismius
Map
Further holiday homes in Sardinia