Cala Sinzias | South-Eastern Sardinia
Villa Campidano 7
Exceptional villa with a private pool near Villasimius, just a short walk from the beach and its crystal clear water. Treat yourself to something extraordinary - book now!
Request a free quote - we will send you a house selection with prices.
House description Villa Campidano 7
Charming villa with pool in Cala Sinzias
Campidano 7 is an architecturally exceptional villa with a private pool near Villasimius, one of the most beautiful places in southern Sardinia. The unique luxury: just a short walk separates the villa from the Cala Sinzias beach and its crystal clear water. Whether you plan to spend romantic evenings overlooking the rolling hills or taking calming walks on the beach, the location of the architecturally exceptional, four-villa complex promises peace and a quiet Sardinian lifestyle.


Campidano 7 is your perfect Sardinian holiday home if you...
...want to enjoy exceptional accommodation with a breath-taking panoramic terrace
...are looking for an architecturally well-designed villa with a private pool
...wish to be close to a beautiful, family-friendly beach with infrastructure


Architecturally exceptional pool villa
The clear highlight of the villa, in addition to the private pool, is the enclosed courtyard: in the style of a medieval monastery courtyard, its mature olive trees and Mediterranean flair are enchanting. From here, a tour leads to two separate sleeping and living areas. On the portable barbecue in the garden, which we provide on request, you can sizzle fresh fish or other Sardinian delicacies to your heart's content—for an incomparable holiday "outdoor-feeling".

 

Detailed house description
House details and amenities
Amenities
A/C in living room + 1 bedroom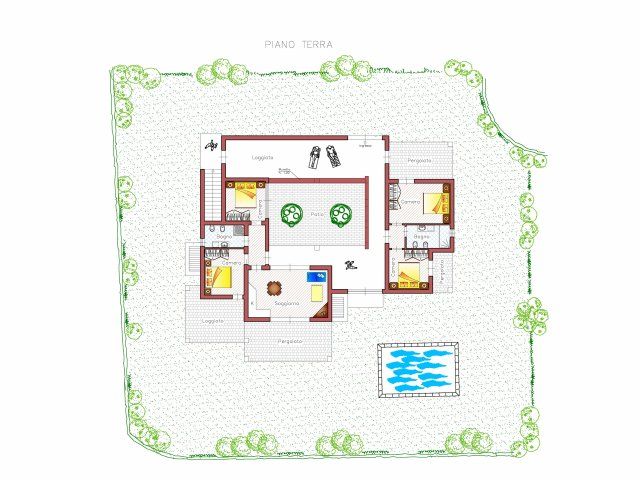 Location and tips for the surrounding area
Further holiday homes in Sardinia